Joinable Tuscany Wine Tour from Loro Ciuffenna
Your wine tour from Loro Ciuffenna includes:
• Pick up from your accommodation
• Maximum of eight participants
• Scenic & photographic tour of Tuscany
• Seated tastings at two family wineries
• Tasting of Chianti & Super Tuscan wines
• Guided cellar tours at each winery
• Third winery for home cooked lunch
• Expert guidance on Chianti wines
• Recent model minivan with AC
• Commentary in perfect English
Our joinable Tuscany wine tour from Loro Ciuffenna departs from town and accommodation in the area. It's open to experts and beginners…the tour has  something for every one. We speak perfect English, and the characteristics of Tuscan wines and how best they can be enjoyed will be explained during the trip. Together with a small group of fellow wine lovers, we will be meeting both staff and winery owners, and they'll be happy to share their passions and answer your questions. It's a fantastic opportunity to discover all there is about Chianti wines. (If you'd prefer a private tour click here)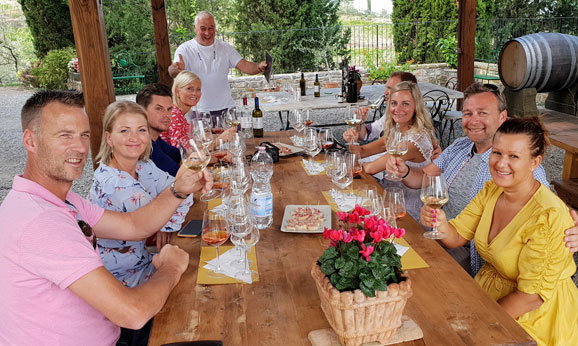 All inclusive fee (no extras required) to complete the tour as stated
€ 160 per person
Our day in Chianti
Our wine tour from Loro Ciuffenna departs directly from your doorstep between 08:30 & 09.30. The exact time will be communicated the day before the tour. We may pick up other participants from nearby locations before we head out to wine country. The maximum number of people that will be taking part on the tour is eight, and travel will be in a spacious recent model minivan with AC
For obvious reasons please try to be ready at the allotted time.
We'll be visiting three wineries. Two will be for wine tasting and guided tours of the cellars, and the third for a delicious home cooked Tuscan lunch. Wines tasted will be Chianti Classico, Chianti Reserve and Super Tuscans. A glass of Sangiovese wine (the main grape of Chianti) will also be served at lunch.
Last but not least…we'll be traveling through one the world's most beautiful rural areas, so the drive will be leisurely with stops to enjoy the scenery and take a photo or two.
About Our Wineries
We've been doing wine tours for fifteen years, and in this time we've visited most of the estates the Chianti Classico region has to offer. Based on our experience, and above all, the feedback from our clients, we now only visit a small number of highly selected wineries. These are the estates where the quality of the wines and the quality of the experience are of the highest standard.
Your joinable Tuscany wine tour from Loro Ciuffenna will privilege family estates, some a little larger, and some very small indeed. Our aim is to offer you a varied experience, and an insight on the different philosophies in wine making.
Wine Tour from Loro Ciuffenna FAQ
Are there extras to pay on the day? No, the price quoted includes all transport fees, wine tastings and lunch as described.
What's excluded? Refreshments other than lunch, and whatever isn't offered in the description above.
Can I buy wine? There is no mandatory requirement, but yes of course. It can also be shipped to most parts of the world.
Is there a lot of walking? Only minimal. Wine tastings are seated and most photos can be taken from the van if required. Visiting the cellars will require a brief time on your feet, but it's also possible to wait while seated in the tasting room.
Can children come on the tour? Yes they're welcome, but we can't offer discounted prices as they as they still take up an adult's space in the van. They're allowed to access the tasting room, but they must remain seated and keep in mind there are no specific activities for children. They will be offered a soft drinks or fruit juice.
Is it possible to have a private tour? Yes it certainly is, take a look here