My premium Tuscany wine tasting experience plus scenic tour of the stunning Chianti countryside
Tuscany wine tasting special tour includes:
• Pick up from your doorstep
• Visits to award winning family wineries
• Tasting of Chianti & Super Tuscan wines
• Scenic tour of the Tuscan countryside
• Multiple stops for your holiday photos.
• Tuscan light lunch
• Recent model minivan with AC
• Commentary in perfect English
Prices are at the bottom of page
Check availability or book here
Here's a Tuscany wine tasting tour for anyone that enjoys a glass of wine. It doesn't matter if you started your wine adventure yesterday or years ago, if you're an expert or beginner, this is where you'll discover all there is to know about Tuscan wines. The day includes a scenic safari drive through the Tuscan landscapes with stops for you holiday photos. The Wine Lover's Special costs a little more than my basic tour, but we taste a wider selection of wines, have guided tours the cellars, and enjoy an extra hour in Tuscany. I'll be introducing you to wines that have received excellent critical acclaim, but above all, these are the estates my guests have most enjoyed over the years. A Tuscan light lunch in a local restaurant or winery is also included.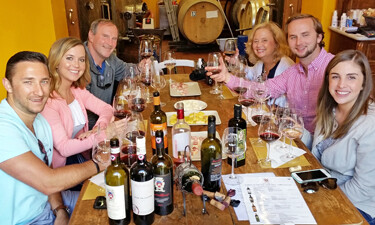 Tuscany wine tasting & wine lover's special
09.15am: We depart directly from your accommodation, for our morning drive through the gorgeous Chianti countryside. The pace is leisurely and we'll make a number of stops for photos. I'll explain the history and agriculture of the Chianti landscapes at each stop.
Our first Tuscany wine tasting will be late morning. On arrival at the winery we begin with a guided tour of the ancient cellars. We then proceed with a sit down tasting of the estate's highly rated wines, plus their genuine olive oil. This is a medium size family estate that's obtained prestigious  international recognition. The emphasis is on Chianti traditions.
A Tuscan light lunch at one of my favorite restaurants is included in the fee. It will likely comprise of a Platter of Tuscan cold cuts and bruschetta with seasonal toppings, a pasta dish and a glass of house wine.
After lunch we head for our second Tuscany wine tasting at delightfully small family estate. Here we'll enjoy the personal atmosphere only small wineries can give. In a decidedly Tuscan setting, we'll tour the property where the fanatical care for top results will be evident. The wines produced are again traditional Chiantis, (fruity with moderate barrel ageing), but also the newer Super Tuscans with a more international appeal. These are wines based on international grapes such as Cabernet and Merlot.
We'll enjoy another personalized tour and sit down tasting. The visit lasts about an hour and a half.
Our Tuscany wine tasting ends and we set off on our return journey. The arrival time at your accommodation is around 05.15pm.
Tour duration: approx eight hours door to door.
2018 fully inclusive price list, no extras required to complete tour as described
Check availability or book here
2 participants €245 per person
3 participants €180 per person
4 participants €175 per person
5 participants €160 per person
6 participants €150 per person
7 participants €140 per person
8 participants €130 per person
This is not a group tour, fees refer exclusively to private parties
(for example: a private party of four people is €175 per person)
 For parties of 9 to 16 people with second minivan
Second minivan flat rate of €90 per tour + €130 per person
Pick up from Siena + €60 (per tour not per person), for other locations please ask.
Many people ask me for advice on accommodation. I'm not a travel agency, so I suggest look up Chianti info where you'll find lots of ideas.