Tuscany Wine Tours FAQ
Are your tours private?
Yes, my Tuscan wine tours are strictly private which means you will be my only customers for the day. You will not share the minivan or my services with anyone outside of your party. Of course this costs more than a group or bus tour, but here are the advantages:
• Doorstep service. Pick up is from your doorstep not from a meeting point as offered with group tours.
• Personal attention: You are my only guests for the day, everything is just for you.
• The pace is relaxed. I don't fill the day with too many appointments, my tours are not check lists.
• Maximum flexibility. The tour has an itinerary, but you're free to make changes within reason.
• We'll maximize time. I know Tuscany well, you'll see what you came to see with no down time.
• Get out of the crowds. Rest assured I'll keep you well away from places that cater for bus tours.
Will we be the only customers at wineries?
There may be a few other people at our wineries, but definitely not crowds. You will have your own private table and receive individual attention.
Do I need to tip?
There is no truth in the information all over the internet that you never tip in Italy. Of course you can tip, it's just that Italians don't tip as often as in the States. It's simply not as automatic, so no one will be offended if you don't. However this doesn't mean we never tip. Don't tip common services like a quick coffee etc. But if you have continued service involving hours or days (hotel staff, waiters, drivers), then I assure you it's appreciated. The sum is up to you, but if you tip like back home you won't go wrong.

Tipping in restaurants.
Restaurants add an extra to the bill called "COPERTO" which is a seating & bread charge. It's done throughout Italy and is applied to everyone, not just tourists. The money goes goes to the ownership not the staff. If you leave the  waiter a tip it will be welcome. To a lesser extent you could find the word "SERVIZIO." This is in fact a mandatory gratuity, so obviously no tip here. Finally never tip for poor or rude service. it does happen and it'a about bad manners, and not because you're a tourist.
Is your business certified in any way?
Yes, I'm the holder of an official license as a state-registered chauffeur. The license is called N.C.C. To obtain it you have to take practical and theoretical exams and also have a record of good conduct. The license gives me access to off-limit city centers otherwise banned to private vehicles. This is why I can pick you from your doorstep anywhere in the city
Are you a travel agency?
No, I'm not a travel agency. I don't organize any form of accommodation, travel or services for third parties.
Are you a guide for cities and museums?
No, I'm not a historical guide. In fact by Italian law, driver guides are not allowed to do historical guiding of museums, monuments and city sights. Therefore: city visits are to be considered free tours. I will on the other hand give you full guidance during our drives in the countryside and at wine tastings. However I do offer a walking tour of Florence but this is carried out by my partner Maurizio who is a fully qualified Florence historian.
How many wineries can we visit?
Usually it's two. Winery visits and tastings in Italy have a different time scale and etiquette than the US, and this is particularly the case with my tours. They're not over the counter tastings but seated and personalized, and take between one and one and a half hours.
The wineries we'll be visiting take care to make a personal connection with their visitors, and you'll be given the opportunity to discuss things in a leisurely manner with the staff, and in some cases the owners themselves. This doesn't mean that over the counter tastings don't exist, they certainly do. They're offered by corporate wineries who fit you in between one bus tour and the next…you take a quick drink and leave. This isn't the type of venue I propose. My aim is to do less, but do it well.
Also estates are not conveniently lined up along a fast highway. Tuscany is a vast hilly area of slow winding roads, and wineries are scattered. It can and does take time to get from one to the other and my tours aren't "just" about wine. We will be travelling through one of the world's most beautiful rural areas, and you'll surely want to do some sightseeing and take a few photos. Consequently I will make a number of stops, and give you ample time to do this, but of course this will take up part of our day.
I've chosen wineries that differ in size and style. One will be of medium size, while the other will be a smaller family estate. Though they are "just two," I assure you a representative experience of both Chianti and Super Tuscan wines. I care to add that all Chianti wines are made from minimum 80% of the Sangiovese grape varietal, so ultimately there aren't huge differences from one winery to the other. I've selected my wineries carefully over the years, and I privilege those that offer quality wines at reasonable prices. My philosophy is; it's not wise to pay too much, and neither to pay too little.
So to conclude; I'm happy to take you to a third winery, but we'll have to respect their appointments. Maybe wine is all you're interested in, and that's fine by me…after all, I'm offering wine tours! But to avoid disappointment on the day, please be aware we'll have to keep going, and photos will be taken from the van as we drive. We'll also have to skip the visit to the town of Greve. There will be an extra of €10 per person per winery to cover tasting costs.
Are there extras to pay on the day?
No. I have a policy of no hidden extras. The prices of all wine tours on this site are inclusive of travel costs, wine tastings and lunch.  The prices you see are what you will be asked on the day…no more.
Are times and itineraries flexible?
To some extent, yes. Consider all times for your guidance only. Actual times may well vary and you are free to make changes within reason to the planned itinerary. However, appointments for reserved visits do have to be kept or the fee must be paid if you decide to forego the visit. The pickup time is usually about 9.15 am and the return about 5.15pm.
Credit cards, ATM's, travelers checks.
All major credit cards are accepted in Italy, though American Express isn't popular due to high commission charges. ATM's can be found almost everywhere, just don't expect them in a rural hamlet with a few houses. They change at the official rate, and you only pay commission on the withdrawal which isn't a huge sum. It's always a much better deal than changing cash. It's important you inform your bank you will be making withdrawals in another country, otherwise the system could think your card has been stolen, and of course will block it. Be sure to inform your bank that you will be travelling in Italy, otherwise the card might be refused if the system identifies it as stolen.
What happens if the tour is cancelled?
In fourteen years of activity it's never happened, but I suppose it's possible. I endeavor to foresee all possible problems before suggesting an excursion. However, itineraries, events and activities may change at any time due to circumstances beyond my control (traffic hold ups, accidents, weather etc.). I will make every effort to maintain the tour as planned. If this should prove impossible, I will suggest comparable alternatives. In the event of problems arising with my vehicle or should I fall ill, the tour will be carried out exactly as described in your reservation by one of my partners. Should all fail completely I will refund the entire sum of the tour if it's been paid.
Are you insured?
Yes. My insurance cover for passengers is €2,500,000 (two million five hundred thousand euro). This sum is divided between the number of passengers: three passengers would be €833,000; five passengers €500,000. This figure is already higher than the Italian legal requirement, and this is the only web site where you will read how much insurance cover you actually have. If you require further cover, please take out travel insurance at home, which is advisable in all circumstances.
What happens if I need health care in Italy?
Italy is a country with affordable health care and excellent standards of medical assistance, though better in northern and central Italy. Doctors are well trained and very passionate about their profession, and state hospitals in Tuscany are efficient in case of emergencies. In the unfortunate event that you should fall seriously ill, it's good to know that under Italian law emergency medical assistance cannot be refused to anyone. Do take out extra health insurance because they may (or may not) ask for payment.
Where do we find rest rooms?
Unfortunately public rest rooms are not always where you would want them, and often the condition in which some people leave them isn't inspiring. Deli's and cafes offer rest room services, but only to customers. My suggestion is: buy something first……any drink is sufficient, then ask to use the rest room. Don't walk straight in as this is badly tolerated.
Is Tuscany safe?
Most towns in Tuscany are very safe. The risk is a little higher in Florence, but no worse than in many other cities of the world. Just be prudent as you would in any major city. Don't walk around with valuables on show, and keep your purse tucked well away. Stick to illuminated streets at night. The Chianti region and Val d'Orcia regions where my tours take place are generally very safe.
If your questions aren't covered in this Tuscany wine tours FAQ, contact me.
Our Custom Ford Minivans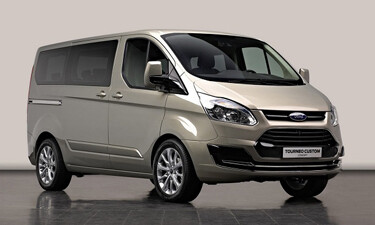 The Roomy Interior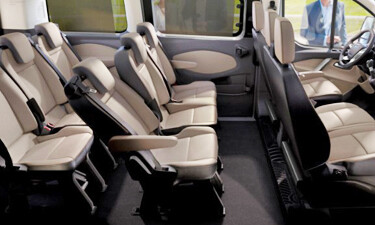 This Is Me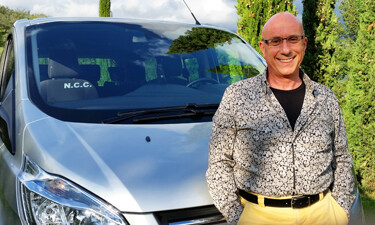 My Partner Myriam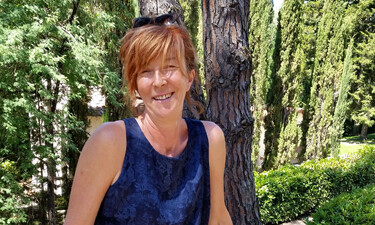 My Partner Maurizio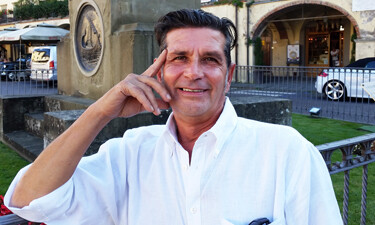 Our Tuscany Wine Tastings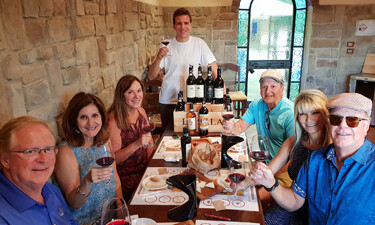 The Scenery of Chianti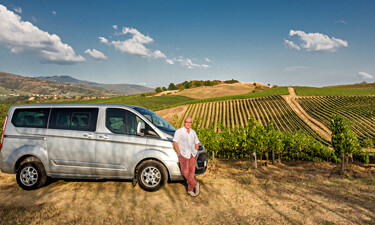 More Tuscany Wine Tastings
Spring Poppies in Tuscany