Also available from Surrounding Areas
Tuscany Wine Tour from Loro Ciuffenna:
• Visits to two family wineries
• Guided cellar tour
• Tasting of Chianti and Super Tuscan wines
• Home cooked Tuscan lunch
• Scenic tour of the Tuscan countryside
• Stops for photos and admiring the scenery
• Pick up from your doorstep
• Private recent model minivan with AC
For pricing scroll down
Our  private Tuscany wine tour from Loro Ciuffenna will include two winery visits with cellar tours, and sit down tastings. As with all my excursions, ample time will also be dedicated to admiring the stupendous Tuscan scenery, and of course stops for your holiday photos. The highlight of the day will be a home cooked farm lunch with paired tasting of Chianti wines. Wines tasted will be mainly reds, including Chianti, Chianti reserve and Super Tuscans. The day will have a leisurely pace, and travel is strictly private in a recent model and very spacious minivan.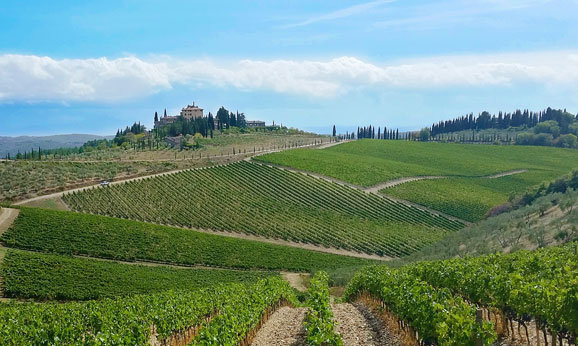 Tuscany wine tour from Loro Ciuffenna
Our Tuscany wine tour from Loro Ciuffenna departs at approx 09:15am, and in about forty five minutes we reach the region of Chianti where we'll make a number of stops for some great holiday photos. The pictures on this page are from the tour. We arrive at our first winery mid morning and you'll be introduced to the cellars and the world of Chianti by the amiable staff. Our stop at the winery lasts about an hour and a half, and you will enjoy a seated and personalized tasting. The wines are mainly red consisting of Chianti, and Super Tuscans. Rose's are produced in small quantities and may be available depending on the time of year.
We leave for more photos of the Tuscan countryside, and drive towards our second winery which is a tiny family estate. In fact it's one of the smallest in the Chianti  region. Here we'll be enjoying a delicious home cooked lunch. Your meal will be prepared by the owners wife who isn't a chef…just a great cook as you'd expect an Italian lady to be. It's a great opportunity to get away from restaurant food (however good), and sample what we eat at home. Of course you'll be sampling the estate's Chianti wines with your meal. Last but not least, the winery has gorgeous views which you're sure to enjoy. Our stay will be leisurely and last about two hours.
If time permits and you're not too tired we still have a photo or two to take, than we head back to Loro Ciufenna where we arrive at approx 05:00pm.  For more info you can also look up my premium tour.
2023 fully inclusive price list including wine tastings, lunch & all travel costs
Discounts for families with minors
2 participants € 275 per person
3 participants € 210 per person
4 participants € 190 per person
5 participants € 180 per person
6 participants € 170 per person
7 participants € 160 per person
8 participants € 150 per person
This is not a group tour, fees refer to private parties
(for example: a private party of four people is €170 per person. Total €760)