Tasting vs drinking is a question of time.
What's the difference between wine tasting and wine drinking, indeed is there a difference? Well yes of course there is. When considering our daily habits, we all consume wine and enjoy the experience. But how often do we do it quickly without really noticing the sensations we're receiving? And not only with wine…how about coffee, beer and even our food. The rhythm of life often means we get eating and drinking over as quickly as possible. Although we Italians dedicate more time to wining and dining than most, I admit I'm sometimes guilty of this too. However from time to time I do make an effort to slow down and savor the moment.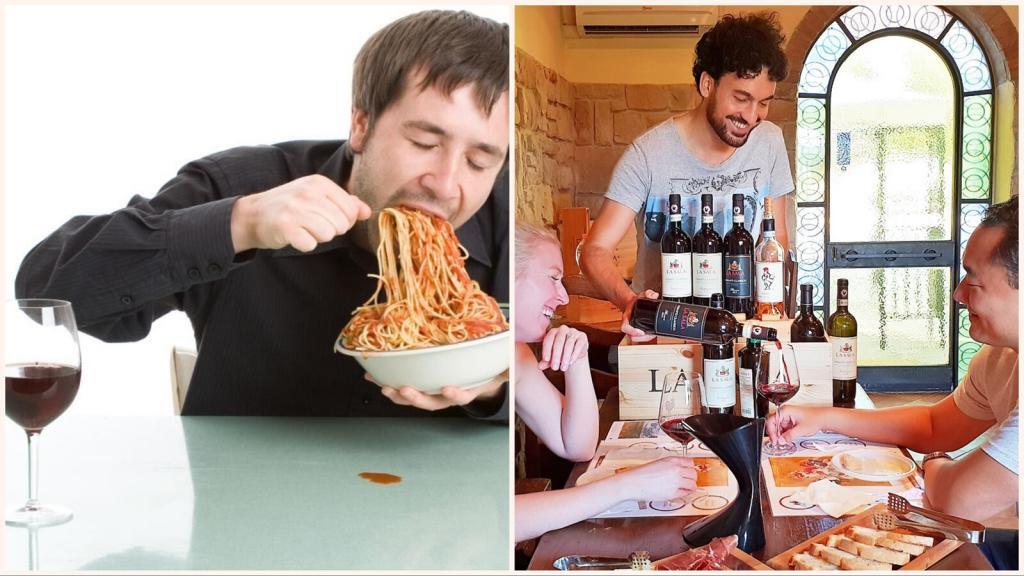 So, when is it tasting and when is it drinking?
Well I'd say that taking the time to evaluate the sensations you're receiving, and making those sensation last is tasting, everything else is drinking. Now I hear you saying "I can't go around swirling, slurping and pondering at every meal." Of course not. All I'm saying is avoid bringing the glass to your mouth and sending a mouthful to the back of your throat in a single action. That's fine with with water, but you're losing out if you have a good wine…or a good anything else.
If you slow the process down (just a little), you'll enjoy it so much more. If it may be of any help here's a suggestion: 1. Not every time, but give the glass a single single swirl before picking it up. 2. Bring the glass to your lips and tilt it while taking a light sniff. It doesn't have to be a blatant sniff, just inhale normally. 3. Take a sip and hold the wine in your mouth for a few seconds swallowing.  It won't seem like you're doing a wine tasting, just drinking a little more slowly. Dedicating a few seconds to savor every sip will vastly improve your enjoyment, and also leave you with a longer memory of how that wine tasted.
How to taste wine with Jancis Robinson
What about tasting wine to evaluate it's quality to make better buying decisions? Does the bottle you've opened merit a second purchase, indeed was it worth the money? Are you enjoying it or not, and why? This is where we most definitely need to understand the process of wine tasting, which apart from being enjoyable also requires objective thought.
Who can better explain this than Jancis Robinson, and I'm honored to be able to host one of her videos on my site. Mrs Robinson has been writing about wine for more than forty years, and is one the highest authorities in the business. She's written many books and holds a long list of prestigious recognitions. Among them are a Master of Wine and an O.B.E. for her services to the industry.
She runs a highly informative website JancisRobinson.com which I strongly suggest you look up. You will certainly improve your knowledge and appreciation of wine.
And..if you're coming on one of my private Tuscany wine tours, you'll also find some very interesting articles on Chianti too. When done in company (the best way) wine tasting is communication and sharing. It's about pursuing a healthy and aesthetically pleasing lifestyle. A wine taster does not simply like the taste of what they drink. It's also about being aware of the aromas and flavors that create the experience.