The Advantages Of Booking Direct
Booking directly from a providers site has it's advantages. If you wish to look up my reviews on that famous site, please do. I trust you will be happy with what you read. But then I'd kindly ask you to return to this site and book direct. The advantages are:
• You'll be dealing and corresponding with the person (me) who will be doing your tour on the day.
• All your questions, needs and problems will get immediate answers and solutions.
• Not having to pay commission I don't have to cut corners on my tours to recover profit.
• It may even be cheaper.
The Advantages of a Private Tuscany Wine Tour
• Doorstep service. Pick up is from your doorstep not from a meeting point as offered with group tours.
• Personal attention: You are my only guests for the day, everything is just for you.
• The pace is relaxed: I don't fill the day with too many appointments, my tours are not check lists.
• Maximum flexibility: The tour has an itinerary, but you're free to make changes within reason.
• We'll maximize time: I know Tuscany well, you'll see what you came to see with no down time.
• Get out of the crowds: We'll travel back roads and get personalized attention at wineries with limited visitors.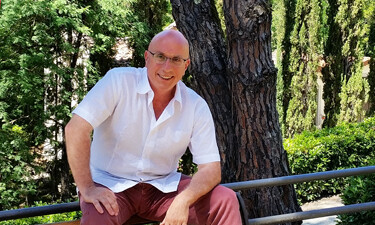 Do you You Have Reviews?
Yes I do. I also hope you will a great day, and will want to write one too. However I'm not subscribed to any other booking site. My Tuscany wine tours can only be booked directly here and nowhere else.
Why I've decided to go alone
That famous review site and it's booking platforms take 20% to 25% commission on tours and activities.  There's also a fee to be listed, and some operators are complaining that their prices have been increased without being consulted. Consequently I'd have three possibilities 1, earn less, 2, increase prices, or 3, cut corners on the tour. Frankly I don't want to do any of these things.
Regardless of how many positive reviews they may have, activities that are not subscribed to the booking site have had all their contact details removed. That means links, email and phone. You'll still be able to read their reviews, but you' can't contact them via the platform's pages. Instead you'll be presented with a banner that fills the middle of the page that asks you if "want other options you can book now."
Obviously the "other options" are those that generate the highest income for the platform, not the ones with the best reviews. An algorithm ensures they're the tours you will always see while the others get pushed down…way down.
Now that's fair enough! It's their site, they can do whatever they please, and and we all work to make a living. But wasn't it about trusted reviews on an honest unbiased platform?
We all look up reviews (so do I) but may I suggest you also look for the activity provider's own site. By booking directly you'll have greater freedom of choice and a personal contact with someone who feels responsible in case of problems. While I'm a firm believer in free enterprise, I also believe we're losing our freedom of choice due to the economic dictatorship of the giant sites.
Please give businesses the possibility to compete among themselves and offer the consumer freedom of choice