Tips on Planning your Tuscany Wine Tour
Is there a best time for a Tuscany wine tour? To some extent there is, but it would be easier to ask if there is a least good time? So let's talk about when it's less favorable, and that means the months of December, January and February. This because many wineries close their tasting rooms because of the lack of visitors, and they don't retain staff who usually have temporary contracts. January is also a holiday month for those who work non stop during the rest of the year.
However if you only have this period, don't worry I can still keep the day interesting. My long standing relationships with wineries means I can pull a few strings, even getting them to open just for us. For example we could do my Wine Lover's Tour and have the tasting room just for ourselves.
All the other months from March to November will give you ample choice of fully staffed estates, so what about other aspects, such as the weather and crowds.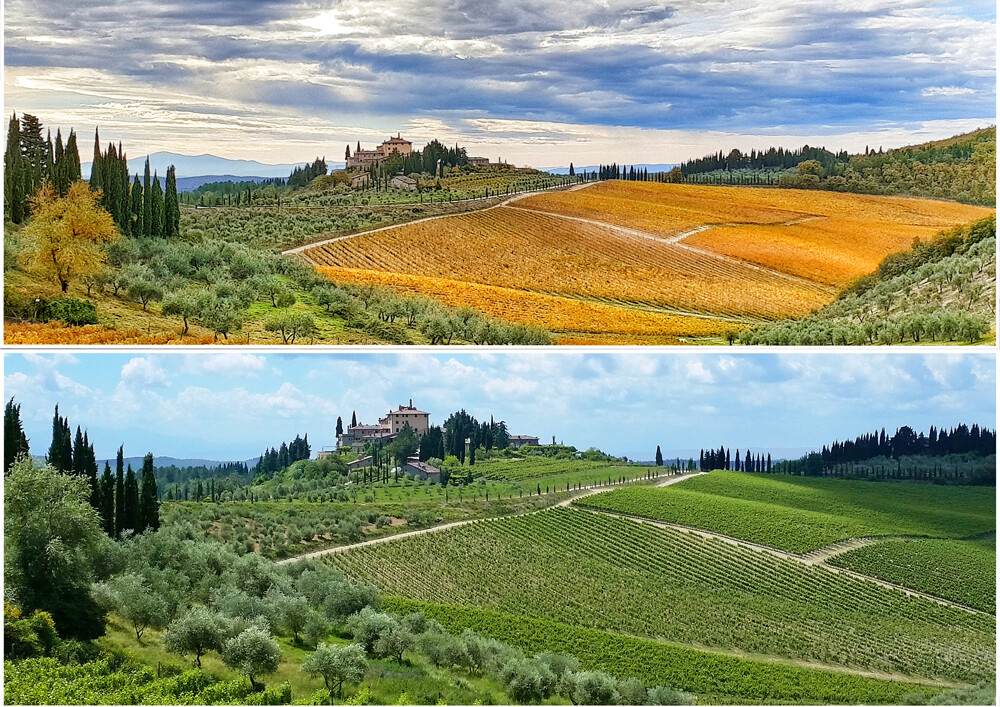 The Don't Travel in Summer Myth
More and more people are writing blogs about how unbearable the weather is in summer, and how Italy is be avoided. The problem is too many are repeating what they've read, not what they've experienced.
The consequence has been a consistent drop in visitors in July and August (from the US) and too many in September and October. Consequently avoiding crowded wineries gets difficult even for me, as they accept more visitors to make up for the loss of the previous months. I also find myself refusing reservations in the fall because I'm fully booked, while I have an excess of availability in the previous months.
So let's look at how "terrible" the weather is in July and August. The average temperature is about 31°C (87.8°F) though for short periods it can get up to 35° (95°F). A lot depends on what you may be accustomed to at home. If you come from cooler climates you might find it uncomfortable, but if you're used to similar temperatures, you won't have any problems.
Given the drop in summer visitors, the best time for a Tuscany wine tour could well be July and August. You'll certainly avoid crowds at wineries (though not in museums etc), and be sure to find availability of your chosen tour. However I still recommend booking well in advance.
Everything is closed in August Myth
Well there is a little truth in this but only if you will be visiting your relatives in that little provincial town. The second and third week of August are traditionally holiday weeks, and most shops are closed. You won't find plumbers and electricians either, so if you're in a non tourist area it would be better not to need one. However any city or area that relies on tourism like Florence, Venice, Amalfi Coast etc, will have shops and attractions open seven days a week. The same applies to wine tours.
The Best Weather Months
Being a Mediterranean country with a temperate climate and seasons, the most comfortable months are April to through June. May can be rainy, though it's more about showers than whole days. The countryside is also very green and lush. The next best weather is mid September to the end of October. Temperatures in the early fall are similar to early summer, and the days are very comfortable during October. You may need a sweater in the evenings. The first two weeks of November can be cool but nonetheless comfortable. There are greater chances of rainy days in October and November, and autumn colors adorn the vineyards from the third week of October to the third week of November.
Summing up
Fortunately the best time for a Tuscany wine Tour has a wide window. There's great weather in spring and other people are present but it's bearable. Then it's hot but less crowds in July August.  Again great weather in autumn, but with more people to contend with. Winter is OK, there's just less choice, though you'll probably get individual attention at your tasting.
Best Time to Visit to Experience Museums and City Attractions:
If the focus of your visit is to experience attractions like Michelangelo's "David" and culture in general, you may want to go in the low season. This means between December and February. Outside of the Christmas holidays, lines will be shorter, and you'll be able to take your time enjoying what each has to offer. March and early April are OK too, though there will be a few more people. However still less than the months to come.