Scenic Drive of Tuscany with Wine Tasting
Your Wine Tasting in Tuscany includes:
• Tasting of Chianti and Super Tuscan wines
• Two course Tuscan lunch light lunch
• Scenic tour of the Tuscan countryside
• Ample time for your holiday photos
• Private travel in recent model minivan with AC
• Pick up from your accommodation
• Explanations in perfect English
For pricing scroll down
This is my basic wine tasting in Tuscany tour and it's ideal for those who would prefer  to spend a little less. Its also a great choice if you only have a casual interest in wine, but would still like to enjoy the countryside of Tuscany. For four or more participants, the price point is similar to that for group tours. But why do a group tour when you can have the luxury of a vehicle and guide all to yourselves? We visit two family wineries where we enjoy sit down tastings (without cellar tours). A two course Tuscan light lunch is also included. The rest of the day focuses on the gorgeous Tuscan countryside with multiple stops for your holiday photos. Last but not least, all will be done at a leisurely pace.
Wine enthusiasts may prefer to consider my "Wine Lover's Special Tour." Find out more.
The countryside of Tuscany and Chianti is one of the world's most beautiful rural areas. Wherever you cast your eyes, vineyards, olive orchards and Cyprus trees are blended into the surrounding woodland with outstanding aesthetic taste. I'll explain the countryside from an agricultural and historic point of view, and give you insights on the culture and wine of the region. We'll make numerous stops for snapshots, (the photos on the right are from this tour), and of course taste highly rated Chianti and Super Tuscan wines. We'll visit two estates; one is a small family concern, and the the other a larger corporate winery.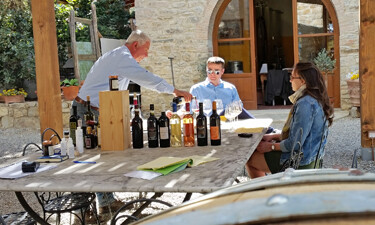 Wine tasting in Tuscany
09.15am – We depart directly from our hotel and head for the gorgeous Chianti landscapes , where a photographic feast awaits us. The whole morning will be dedicated to a leisurely drive enjoying the scenery. I know all the best locations, and we'll make numerous stops for photos.
A Tuscan light lunch at one of my favorite restaurants is included in the fee. It will comprise of a Platter of Tuscan cold cuts and/or bruschetta with seasonal toppings, a pasta/rice dish and a glass of house wine.
After lunch we head for our afternoon of wine tasting in Tuscany. Both wineries are family run. The first is a larger estate, with technical and sales staff. Here we'll taste various vintages of Chianti plus a Super Tuscan. The tasting is sit down in a relaxed and amiable atmosphere. The second winery is very much a micro winery, in fact it's one of the smallest in the area and it's run by a husband and wife team. Again it's a sit down tasting and you'll enjoy individual attention, trying Chianti, and Super Tuscan wines.
Our day comes to an end after the second wine tasting and we head back to your accommodation, arriving at about 04.15pm.
Tour duration: approximately seven hours door to door.
2023 fully inclusive price list: no extras needed to complete tour as stated above
2 participants € 270 per person
3 participants € 210 per person
4 participants € 190 per person
5 participants € 180 per person
6 participants € 170 per person
7 participants € 160 per person
8 participants € 150 per person
This is not a group tour, fees refer to private parties
(for example: a private party of four people is €190 per person)
I often get asked for advice on accommodation. As I'm not a travel agency and I have little to do with hotels and B&B's, I suggest you look up the Chianti Travel Guide where there is lots of very usefull info