Tuscany olive oil – learning the difference
Your Tuscany olive oil & wine tour tour includes:
• Visit to a family olive oil producer
• Tuition on how to recognize genuine olive oil
• Tuscan light lunch
• Tasting of Chianti, Chianti Reserve and Supertuscans
• Leisurely drive through Tuscany
• Multiple stops for photos
• Private recent model with AC
• Departure from your doorstep
For pricing scroll down
The media are full of bad stories regarding olive oil, and unfortunately some are true. However it has nothing to do with organized crime, "just" fraudulent but profitable practices by the industry. Due to insufficient legislation it's easy to declare one thing on the label and put something else in the bottle. So how can you tell if you're getting genuine EVO, and not junk? Well it's not that difficult if you know what to look for, and after today you will.
But this is a site for wine lovers, so of course we'll also be visiting one of the top wineries from my premium "Wine Enthusiast's Tour." It will be a sit down tasting of Chianti and Super Tuscan wines. The icing on the cake will be a relaxed drive through the magnificent Tuscan scenery, and there will be time for a photo or two as well.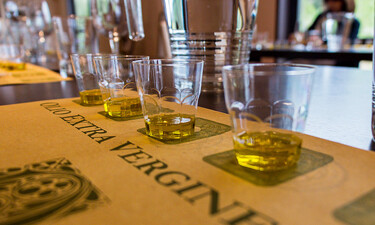 Tuscany olive oil tour
We set out from from Florence (other locations available on request) around 09:15am, and it's a forty five minute drive to the Tuscan countryside and the Chianti region. You'll find the scenery is one of the most beautiful in the world, so I'll drive slowly and I'll be making multiple stops for your holiday photos.
We arrive at our Tuscany olive oil estate late morning for a visit lasting about one and a half hours. We'll first learn about the extraction process and the meaning of extra virgin. Next we follow with a tasting and tutorial on how to recognize genuine products from the many fake oils on the market. Your taste buds are in for a surprise believe me, and you'll find this knowledge very useful when making your future purchases.
( We won't see any milling as this takes place in November, and mills are separate entities from producers. In fact mills just provide an extraction service, and we'll explain all about this on the day).
I care to inform you the estate is one of the most reputed in Tuscany and is authorized to apply an I.G.P label. These are oils which are tested by the Tuscan authorities both in the laboratory and by a tasting panel. The process is highly selective and only the best oils get through.
We follow with a typical Tuscan light lunch which will be a two course meal either at one of my favorite restaurants.
The afternoon is dedicated to Tuscany's "other" precious liquid and after a half hour drive through the Tuscan countryside we arrive at one of the wineries from my "Wine Lover's Tour." Here we'll enjoy a sit down tasting of Chianti, Chianti reserve and Super Tuscan wines.
Our day in Tuscany ends and I'll drop you off at your accommodation at about 05:00pm.
2019 all inclusive price list: no extras required to complete tour as described
2 participants € 255 per person
3 participants € 190 per person
4 participants € 180 per person
5 participants € 165 per person
6 participants € 155 per person
7 participants € 145 per person
8 participants € 135 per person
This is not a group tour, prices refer exclusively to private parties
For example: a private party of four people is €180 per person
Pick up from Siena + €70 (per tour not per person), for other locations please ask.