Traditional Tuscan Cuisine plus Wine Tasting
Your Tuscan farmhouse cooking class tour:
• Departure from your doorstep
• Visit to a small family farm
• Tuscan recipe cooking class
• Olive Oil tasting
• Four course lunch
• Wine tasting at a family winery
• Leisurely drive through Tuscany
• Stops for photos
• Private recent model with AC
For pricing scroll down
My Farmhouse Cooking Class is a full immersion in Tuscan cuisine, including wine tasting and a scenic tour of the countryside. The morning will be dedicated to learning how to prepare a genuine four course Tuscan meal (which will also be your lunch), and how to recognize genuine Extra Virgin Olive Oil. The afternoon will have us visiting a family winery where we'll be tasting Chianti wines, and also contemplating the iconic Tuscan countryside, where we'll stop for a photo or two.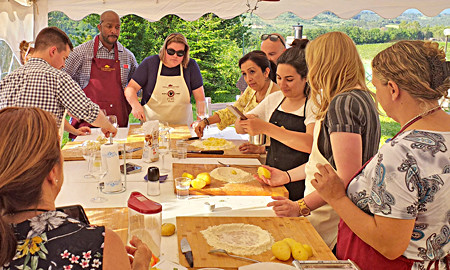 Our venue for the day is a small family farm immersed between vineyards and olive groves. The farm is particularly known for the production of Olive Oil and Saffron. They also raise chickens and grow vegetables. The owners are Camilla and Fabrizio, who live on the farm with their three children. Apart from their farming activities, Camilla is a chef, and Fabrizio a certified sommelier.
Camilla has been giving cooking classes for fifteen years, and she's rightly proud of her traditional Tuscan dishes. The emphasis is on healthy recipes, which will be easy to reproduce when you're back home. Many of the ingredients are freshly picked from the farm's vegetable garden, as of course the olive oil will be from the farm's own trees. I care to add, that their Olive Oil production has recently received some very important recognition in the Italian press.
Your Tuscany cooking class comprises of:
1. Starter course including homemade Tuscan flat bread.
2. Pasta dish with homemade noodles.
3. Main meat course.
4. Sweet.
5. An Olive Oil tasting, including a short lesson on how to distinguish quality EVO.
And…after all this "hard work," what better than to take a seat and enjoy your meal?
Last but not least, the scenery and peaceful surroundings are everything you could desire. So if the weather allows, the cooking class and lunch will be held outdoors overlooking the vineyards and olive groves.

The Afternoon in Tuscany
We say goodbye to Camilla aroun2 2.30pm, and within minutes we'll be immersed in the hear of the Tuscan countryside. Wherever you cast your eyes, vineyards, olive orchards and Cyprus trees are blended into the surrounding woodland with outstanding aesthetic taste. I'll explain the countryside from an agricultural and historic point of view, and we'll make a stop for photos and contemplation.
Next stop will be our family winery, where we'll be enjoying a seated tasting of the estate's Chianti & Super Tuscan wines. The emphasis of their production is on Chianti traditions. This means fruit forward wines with moderate barrel aging.
Tour duration: eight/nine hours door to door.
Price vary according to the number of participants, for example:
2 people
* Private van, scenic tour and all transport costs €480 payable to myself
* Tuscany cooking class and Olive oil tasting €140 per person: payable to the farm
Total €1180
6 people
* Private van, scenic tour and all transport costs €755 payable to myself
* Tuscany cooking class and Olive oil tasting €125 per person: payable to the farm
Total €1505
This is not a group tour, prices refer exclusively to private parties