The Jewel Towns Plus Wine Tasting
Siena San Gimignano in one day includes:
• Pick up from your doorstep
• Visit & free time in Siena
• Visit & free time in San Gimignano
• Three course home cooked lunch
• Paired wine tasting of Chianti & Vernaccia wines
• Extra Virgin Olive Oil tasting
• Recent model minivan with AC
For price list scroll to bottom of page
My Siena and San Gimignano in one day tour will take us to jewel towns of Tuscany for a day of history and culture. However this is a site about wine, so of course we'll also be visiting one of the regions top boutique estates. We'll be enjoying a home cooked lunch with paired wine tasting and extra Virgin Olive Oil.
The morning will see us in San Gimignano, a town of medieval towers in a wonderful state of preservation. Perhaps the most charming and picturesque of all the Tuscany hill towns and a favorite with my guests. The afternoon will be dedicated to Siena, with its red brick buildings, stupendous cathedral and of course, the world famous Piazza del Campo square.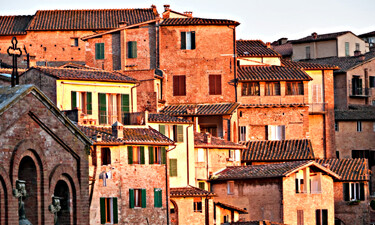 Siena San Gimignano in One Day
09.00am- We start our day with an hour's drive to San Gimignano. We start our tour in free time (one hour forty five), with a walk up the main street which leads to the town piazza. With wonderfully preserved medieval stone buildings, the town has an atmosphere all of its own which you are sure to enjoy. You may like to visit the museum that's situated in the highest tower which has been restored to its original state. If you enjoy walking, maybe a hike around the perimeter of the old town walls to find yourself in the most peaceful of surroundings, and looking over breathtaking Tuscany scenery.
Late morning will have us visiting Marronaia or Casa Emma winery for our three course home cooked lunch, and paired wine tasting (payable separately). The visit starts with a walk in the vineyards, which also have a breathtaking views towards San Gimignano. Then it's time to take your seat for your home cooked lunch with a paired tasting of the estate's Chianti and Vernaccia wines. You'll also be tasting the estate's genuine extra virgin Olive Oils. Your lunch will be outside, weather permitting.
Our Siena San Gimignano in one day continues as we arrive in Siena early afternoon. You're then free to browse at your leisure (approx. two hours). Siena is exceptional not only for its enchanting gothic atmosphere, but also because it's a living city, where the town's folk of today go about their daily activities. There is so much to see in Siena and I suggest you don't miss a leisurely walk in the main street and a stop in the piazza which is truly unique. The cathedral is second in beauty only to St Peter's in Rome, and again well worth visiting. Then browse around at your leisure, every turn you take will lead you to something of interest. We end our tour of Tuscany about 05:00pm and head back to our accommodation with our ETA is around 06:20.
Please note: by Italian law, driver guides are not allowed to accompany clients or do historical guiding of museums & city sights. Therefore city/town visits are done in free time. I remain on call and close at hand should you have any needs. This doesn't apply to the countryside and wineries where you will have full guidance.
The Siena San Gimignano tour has a duration of approx nine hours door to door.
2023 all inclusive price list: inclusive of all travel costs
Discounts for families with minors under 18, just ask
2 participants € 280 per person
3 participants € 195 per person
4 participants € 185 per person
5 participants € 165 per person
6 participants € 155 per person
7 participants € 145 per person
8 participants € 135 per person
Three Course Lunch & Wine Tasting + €50 per person
This is not a group tour, prices refer exclusively to private parties
for example: a private party of 4 people is €180 + €40 lunch & tasting per person