A drive through Tuscany and visit to the jewel town of Siena
Your Siena Chianti tour of Tuscany includes:
• Pick up from your accommodation
• Visit in free time to Siena
• Guided scenic & photo tour of Tuscany
• Guided tour of a family winery
• Tasting of Chianti and Super Tuscan wines
• Light lunch at a local restaurant
• Recent model minivan with AC
For price list scroll to bottom of page
My Siena Chianti Town & Country tour is perfect for those who wish to mix the beauty of the Tuscan countryside with a little history…and maybe shopping. The morning will have us in Chianti; a fine example of how it's possible to cultivate land in complete harmony with nature. Wherever you cast your eyes, vineyards, olive orchards and Cyprus trees are blended into the surrounding woodland with the aesthetic taste for which Tuscany is famous. The afternoon will have us in Siena; the second most beautiful town in Tuscany, with its red brick buildings, stupendous cathedral and world famous Piazza del Campo square.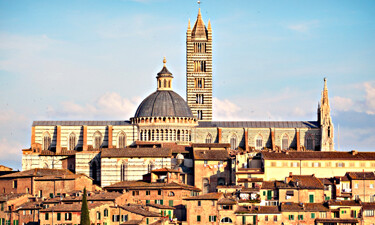 Siena Chianti Town & County Tour
We depart for our Siena Chianti tour at 09:15am.  I'll pick you up from your apartment or hotels and we arrive in Tuscany after about forty five minutes.  I'll make stops in the most picturesque areas and give you all the time you need for photos and admiring the scenery. I know the best beauty spots, so you'll have get some great opportunities.
Around mid morning we arrive at our at our family located in the hills near Radda in Chianti. Their wines are produced exclusively from the vineyards of the estate, vinified in a modern cellar in stainless steel tanks at controlled temperatures. Ageing is done in underground cellars in French oak barrels. We have a guided tour and sit down tasting lasting about an hour and a half.
Around Mid-day we have a two course light lunch at a delightful little restaurant which is a favorite with the locals, and myself.
After lunch we continue on our drive towards Siena passing through more great scenery. Siena is exceptional not only for its enchanting gothic atmosphere, but because it's a living city, were the town's folk of today go about their daily activities. This gives the visitor an insight into a contemporary Italian town, but with a change of clothing, you could easily believe to be living in the 16th century. There's plenty to see in Siena but I suggest that you don't miss a leisurely walk in the main street and a stop in the Piazza del Campo which is truly unique. The cathedral is one of the most beautiful in Italy, and again well worth visiting. Then browse around at your leisure, every turn you take will lead you to something of interest. If you're interested in fine Italian clothing, Siena's shops offer quality goods at more competitive prices compared to Florence. We complete our tour in Tuscany and return to our accommodation.
Please note: by Italian law drivers are not allowed to accompany guests to monuments or museums. Therefore your visit to Siena is done in free time. We conclude our Siena Chianti tour at 04:30pm and drop off at your accommodation is around 05:15pm. Times are to be considered approximate.
2023 inclusive price list: no extras are required to complete tour as described
Discounts for families with minors
2 participants € 300 per person
3 participants € 230 per person
4 participants € 210 per person
5 participants € 190 per person
6 participants € 180 per person
7 participants € 170 per person
8 participants € 160 per person
This is not a group tour, prices refer exclusively to private parties
For example: a private party of four people is €210 per person