Rome FCO Airport Florence Transfer by Minivan
Your Rome FCO Airport Florence Transfer includes:
• Direct transfer Rome Airport – Florence
• Pick up and drop off at airport and accommodation
• Recent model minivan with AC and all travel costs
• English speaking driver
• Recent model minivan with AC
• Our personal assistance during the day
2023 price list
Transfer Rome FCO airport – Florence for 2-4 people € 800
Transfer Rome FCO airport – Florence for 5-8 people € 950
Not included: meals & refreshments
Available in both directions
Check Availability or Book Here
A private minivan transfer Rome Airport – Florence costs more than a transfer by public transport but it offers several advantages that makes it worth consideration:
• Airport to accommodation. My partner Giovanni Musella will pick you up at the airport or your accommodation, and deliver you and your baggage safely and efficiently to the doorstep of your destination.
• Comfort. Our recent-model, air-conditioned minibus provides a comfortable ride along the entire route. There is ample leg room for all passengers.
• Maximize precious time. Your time abroad is precious. By arranging a private transfer you are almost certain to save time due to the absence of changes between trains, buses and taxis, or waits at rental car agencies.
• You will not get lost along the route or find your public transport not scheduled as you anticipated. This is especially important if you are planning to catch a flight. And for sure you will not accidentally leave a bag at a transit point.
• No language barriers. We speak perfect English so you'll have company along the way with an en route commentary.
Our Ford Tourneo Minivans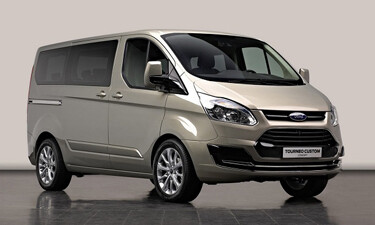 The Van Interior