Starting Price Private Wine Tour Florence
Your Private Wine Tour from Florence Includes:
Pick up directly from your accommodation
Scenic tour with stops for photos
Tastings at two wineries
Chianti and Super Tuscan wines
Two course lunch in a local restaurant
Expert guidance in perfect English
Private spacious minivan with AC
Tour duration approx seven hours
Pricing below
My starting price private wine tour from Florence is essentially the same as my Starting Price Tour. (In honesty, I'm just covering the Florence keyword with this page). However you can continue reading as it's a full description of the tour. This tour has been designed for those who only a passing interest in wine, and would prefer to spend more time exploring the countryside. We spend less time tasting, and omit cellar tours so we have more time to enjoy the iconic Tuscan landscapes. So read on and consider the advantages offered by the comfort and flexibility of a private minivan and driver. On the other hand, if wine is a little more important to you, you may like to look up my Wine Lover's Special or the 90+ Wine Tour
Our day will include two wineries and sit down tastings (without cellar tours) and of course we'll be tasting the region's most renowned wine, which is Chianti. We'll also taste a couple of Super Tuscans too. The rest of the day will be dedicated to enjoying the Tuscan countryside with multiple stops for your holiday photos, and all will be done at a leisurely pace.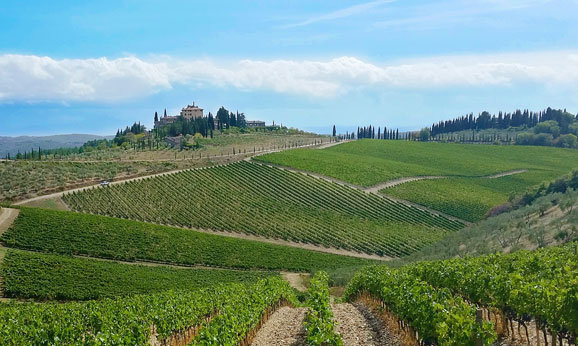 Your Private wine tour Florence Itinerary
The Morning
09.15am – We set out from Florence (other locations available on request) and you'll appreciate the ease of being picked up directly from your accommodation (group tours will require you get to a meeting place). The first part of the morning will be dedicated to enjoying some of the world's most beautiful scenery, and we'll make a number of stops for your holiday photos. I'll also give you a running commentary during the trip.
We'll arrive at our first winery around eleven where you'll be introduced to the world of Chianti by the amiable staff. Your tasting will be seated and without being rushed, you will enjoy Chianti Classico, Chianti Classico Reserve and Supertuscan wines. The tasting will take about an hour. If you'd prefer a tour with cellar tours, then take a look at Wine Lover's Tour.
A Two course light lunch is included and around twelve thirty I'll take you to my favorite restaurant…the one I go to with my wife when in Chianti. The menu varies depending on the time of year, but you can expect Tuscan cold cuts, and a pasta or rice dish. A vegetarian lunch is also available.
The Afternoon
The afternoon will take us to our second winery, and of course another sit down tasting where you will receive individual attention. Again you will meet the staff or the owner of the estate who will introduce you to their wines. For your information, I wish you to know that tastings are always carried out by the wineries themselves. I also like to leave a certain amount of privacy during this time, so you can freely exchange your opinions. Our day tour of Tuscany comes to an end after the second wine tasting and we head back to your accommodation, where we arrive around 04.15pm.
Tour duration: approx seven hours door to door.
2022 fully inclusive price list: no extras needed to complete tour as stated above
2 participants € 230 per person
3 participants € 165 per person
4 participants € 155 per person
5 participants € 145 per person
6 participants € 135 per person
7 participants € 120 per person
8 participants € 115 per person
This is not a group tour, fees refer to private parties
(for example: a private party of four people is €155 per person)
Pick up from Siena + €70 (per tour not per person)