My most exclusive & personal tour
Your day of connoisseur wines includes:
Private recent model minivan with AC
Private room for wine tastings
Private dining room for lunch
Tuscan home cooking with paired wine tasting
Tasting of highly rated Chianti & Super Tuscans
Guided cellar tours
Scenic drive of the iconic Tuscan countryside
Multiple stops for your holiday photos.
Pick up from your doorstep
Scroll down for pricing
All my tours offer great wines, and relatively crowd free tastings, but on this tour we take both aspects to another level. I've designed my Connoisseur Wines of Tuscany Tour, so that not only will you enjoy some of Tuscany's most revered wines, but also be able to contemplate them in the most intimate of settings.
Added to the private travel which is common to all my tours, you'll also relish in the comfort of tasting and dining rooms reserved exclusively for yourself. And of course, you'll also have personalized attention from staff and owners at the wineries.
This is a tour where get away from the crowds, really means what it says, and to top it all, you'll be tasting wines that I trust will satisfy even the most refined palate.
It's a step up from my already premium Wine Lover's Special tour. A no compromise day of highly rated wines, including a four course home cooked lunch, and a leisurely drive through the Tuscan countryside, with stops for photos and contemplation.
Though I'm suggesting it's a tour for aficionados, it's open to everyone. If you love good food and wine,  even on a casual basis…you've qualified. It will be my pleasure to help you understand the wines of Tuscany, and how best they can be enjoyed.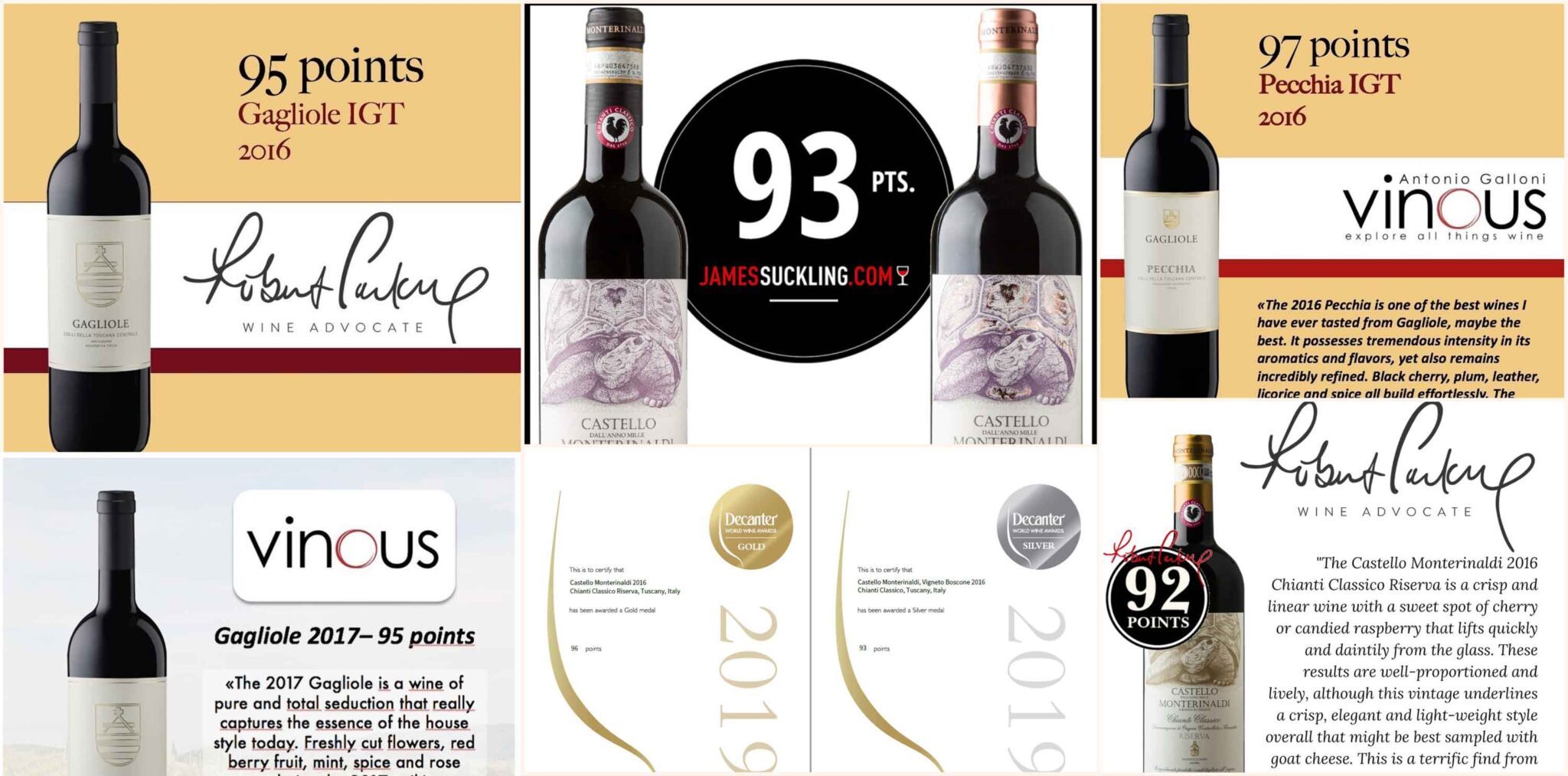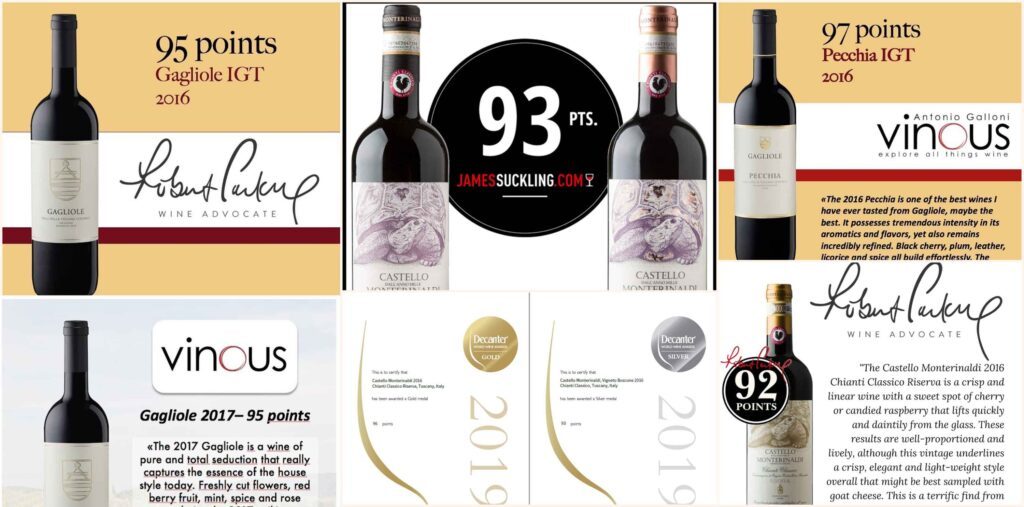 We'll be visiting two wineries, each of which places the utmost importance on the tiniest detail. This results in wines that are the epitome of elegance, finesse, and complexity. I'll be taking you to "less famous estates," which however are held in high regard by myself, the press, and most importantly of all…by the local sommeliers associations.
You may be thinking; "connoisseur wines of Tuscany, hmmm? I bet they're expensive!" Well here's the good news. The only thing we'll be missing is the price tags associated with the famous names. Of the all the wines wines you'll be tasting, only one is over $100. The others range between $20 and $70, and I'll let you let you in on a secret…my personal favourite is the "cheapest" one.
As you'll be tasting a total of approx nine wines, the time at each estate will be extended. This to give you time to reset your taste buds between each glass, and also enjoy the experience without being rushed.
The visit to the first estate will also include a four course home cooked feast in your own private room in the estate's 1800's villa. Each course will be paired with the their highly rated wines. It's a unique opportunity to get away from restaurants (however good), and discover genuine Tuscan food as prepared at home.

2022 price list: minivan guidance & all travel fees included

2 participants €270 per person
3 participants €195 per person
4 participants €185 per person
5 participants €170 per person
6 participants €160 per person
7 participants €150 per person
8 participants €140 per person
Four course lunch, paired wine tasting and cellar tour: €40 per person
Connoisseur wines of Tuscany: the wineries
Our day in Tuscany departs directly from your accommodation, and we enjoy a morning drive through the gorgeous Tuscan countryside. The drive will be leisurely, and we'll make a number of stops for photos. I'll explain the history and agriculture of the Chianti region as we travel, and at each stop.
Late morning we reach Monterinaldi winery, where we'll also be enjoying lunch.
Then during the afternoon we'll be visiting either Gagliole or Carobbio. See below for more info on the wineries.
Monterinaldi Winery
Monterinladi is an ancient property, and was once the farming estate of a castle sitting on a nearby hill. Today it boasts a beautiful 1800's villa, and underground cellars from the same period. Their highly rated wines, for which you can see the reviews here, are representative of Tuscan traditions. This means wines to accompany food, and traditional wine making methods. However, they've recently introduced a number of new products, with a more international appeal, and they're rapidly gaining consent.
Your visit to Monterinaldi starts with a guided tour of the cellars. Then around mid-day you'll be invited to take a seat in the estate's 1800's villa. Here you'll be enjoying the luxury of a private room and table, and you're in for a four course feast. It will be genuine home cooking, prepared by Margherita who isn't a chef, "just" a great cook in a traditional and homely sense. The meal will consist of a starter course, a pasta course, a meat course, and sweet to close. Each course will be accompanied by the estate's 90+ Chianti and Super Tuscan wines.
Gagliole Winery
Early afternoon will have us visiting Gagliole winery (or Castello di Radda see below). Another ancient property, now beautifully and lovingly restored. We start with a guided tour of the cellars where we'll see how no expense has been spared for the latest in cutting edge technology. This is backed up by the know how of a highly qualified staff, perfect growing conditions, and lots and lots of care. For example: the manual sorting of each berry before crushing. Only the perfect ones are used, the rest (which many would still use) are discarded and used as compost.
Gagliole pride themselves (and rightly so) for the elegance of their wines, and you can see the reviews here. You'll be tasting eight of their high scoring Chianti and Super Tuscan wines, and of course, you'll be given ample time to allow your taste buds to recover between one glass and the other.
Carobbio Winery
Carobbio is located in the Golden Valley of Panzano in Chianti, which is considered on of the best growing areas of all Chianti. A privileged geographical position, between 350 and 450 meters that brings a remarkable thermal excursion between day and night, essential to obtain wines with intense and elegant aromas.
The vines are cultivated according to the most advanced viticultural trends, meaning high density vineyards and a minimal number of clusters per plant. Harvesting is strictly manual in order to prevent damage to the grapes before they reach the cellars, and also permit the pre selection of the best clusters for the top wines.
The excellence of Carobbio wines is the result of a rigorous project, in which each vineyard has a specific role, each step is the subject of meticulous care, and every action is a precise choice.
FAQ in brief
Can I Buy Wine?
Yes of course. Price lists are placed on the table for your information, but there is no implied obligation, and you will not be asked if you wish to make a purchase. Only you can express that desire.
What is Chianti?
Chianti is a strictly regulated appellation wine. It can only be produced in central Tuscany within defined geographical boundaries.
What is Chianti Classico?
The Chianti production area has been expanded over the years, and is fairly large. Chianti Classico is the wine that's made in the original and much smaller historic production zone. By law it has to contain a minimum of 80% Sangiovese grapes.
What is a Super Tuscan?
Super Tuscans are a creative approach to wine making. Apart from defining the geographic area where the grapes are grown, and the wine is made, there are few rules. There is however an underlying concept which all reputable estates adhere to, and that's the quest for the highest quality possible. The grapes tend to be Cabernet, Merlot & Syrah.