Home Cooked Farm to Table Lunch With Wine Tasting
Your family winery in Tuscany tour
• Farm to table home cooked lunch
• Leisurely drive through Tuscany
• Multiple stops for your holiday photos
• Tasting & cellar tours at two wineries
• Pick up from you accommodation
• Private recent model minivan with AC
Price list at bottom of page
If you'd like to try a typical Tuscan home cooked meal, this is the tour for you. While tasting the wines of one of the smallest family wineries in Tuscany, we'll sample genuine Tuscan home cooking. Above all this is the last estate in Chianti that raises animals and grows vegetables. This will be one of the freshest farm to table meals you've ever had. Your lunch will be prepared by the lady of the house, who isn't a chef, "just" a great cook in the traditional sense. As an added bonus they produce excellent Chianti and Super Tuscan wines. I'm sure this will be one of the best meals of your Italian holiday.
We also visit two other wineries, both of which are on my Wine Lover's Tour and we'll enjoy guided tours of the cellars, and a seated tasting of Chianti and Super Tuscan wines.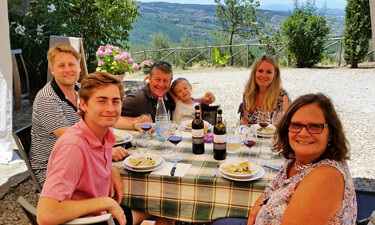 Family wineries in Tuscany farm to table tour
09.00am: Our Tuscany tour starts as we leave your accommodation for the gorgeous countryside. The drive is leisurely and we'll make a number of stops for photos. I've carefully chosen one of my favorite itineraries, in order to give you the best scenery Chianti has to offer. We travel off the beaten path through the heart of the Chianti hills, where vineyards, olive orchards and woodland provide one of the most iconic regions of the world.
Around 11:00am we arrive at the first winery which is a family business of medium size. Here you'll meet the amiable staff, and enjoy a tour of the cellars followed by a sit down tasting at your own private table. We'll be tasting traditional Chianti wines made from the Sangiovese grape, as well as Super Tuscans based on Merlot and Cabernet. Chianti has changed greatly over the last thirty years, smoother and more refined it regularly obtains high scores from international reviewers, while maintaining its acidic character for excellent pairing with hearty food.
We leave our first winery around 12:30, and take another drive through the gorgeous Tuscan countryside arriving at our lunch venue around 01:00.
Your Tuscan Farm to Table Lunch
This is one of the smallest wineries in the Chianti region where time has stood still. It was common until the 1950s for estates to farm 360°, growing vegetables, fruit and raising animals. This is no longer done, with the exception of this delightful little place.
Everything is produced on the estate, and it's rigorously home cooking…even the bread and pasta are home made. You'll be enjoying an ample three course meal, so I suggest you postpone any diet till tomorrow. Of course each serving will be paired with a tasting of the estate's Chianti, Chianti Reserve wines. Last but not least, the surroundings are gorgeous and everything you expect from Tuscany.
After lunch we'll go for a second wine tasting and visit another very small family winery. It's one of the smallest in the Chianti region and it's run by a husband and wife team. Again it's a sit down tasting and you'll enjoy individual attention, trying Chianti, and Super Tuscan wines.
Our Farm to table Family wineries in Tuscany tour ends here, and we set off on a relaxed return journey where you can sleep off the pleasures of the day. Drop off at your accommodation will be around 05:30pm.
Duration: approx. eight hours door to door.
2023 price list: prices are all inclusive, no extras required to complete the tour as described above
2 participants € 285 per person
3 participants € 220 per person
4 participants € 200 per person
5 participants € 190 per person
6 participants € 180 per person
7 participants € 170 per person
8 participants € 160 per person
This is not a group tour, fees refer to exclusively private parties
(for example: a private party of four people is €190 per person)
Pricing is based out of Florence. For other locations please ask.