Farm to table home cooked food and wine tasting in Tuscany
Your family wineries in Tuscany tour includes:
• Visit to small family estate with tour of winery
• Farm to table home cooked lunch & wine tasting
• Tasting of Chianti, Supertuscans and olive oil
• Leisurely drive through Tuscany
• Multiple stops for your holiday photos
• Second family winery visit
• Visit to the piazza (square) of Greve in Chianti
• Pick up from you accommodation
• Private recent model minivan with AC
Price list at bottom of page
Check availability or book here
If you'd like to try a typical Tuscan home cooked meal, this is the tour for you. While tasting the wines of one of the smallest family wineries in Tuscany, we'll sample genuine Tuscan home cooking. Above all this is the last estate in Chianti that raises animals and grows vegetables. Your entire meal will be one of the freshest farm to table feasts you've ever had. Lunch will be prepared by the lady of the house, who isn't a chef, "just" a great cook in the traditional housewife sense. As an added bonus they produce excellent Chianti and Super Tuscan wines. I'm sure this will be one of the best meals of your Italian holiday.
We also visit a second and somewhat larger winery (the one from my wine lover's tour) for a second tasting of Chianti and Super Tuscan wines.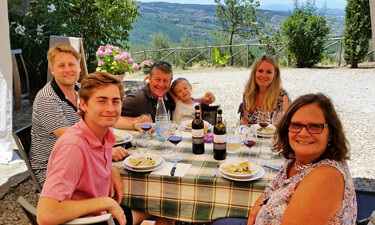 Family wineries in Tuscany home cooking tour
09.00am: Our Tuscany tour starts as we leave your accommodation for the gorgeous countryside. The drive is leisurely and we'll make a number of stops for photos. I've carefully chosen one of my favorite itineraries, in order to give you the best scenery Chianti has to offer. We travel well away from main roads through the heart of the Chianti hills, where vineyards, olive orchards and woodland provide one of the most iconic regions of the world.
About mid day we arrive at one the smallest family wineries in Tuscany where we'll have a guided tour of the estate, and enjoy the personal feel only a family winery can give. We then proceed to taste their traditional Chianti wines, while sitting down to a delightful farm to table lunch. I suggest you have a light breakfast and forget your diet. Last but not least, the surroundings are gorgeous and everything you expect from Tuscany.
We continue our Family Wineries in Tuscany Tour with a second drive through the Tuscan countryside, again making stops to contemplate the scenery and take a photo or two. We reach our second winery of the day where we'll taste a different style of Chianti, sometimes defined as "International." This means a greater use of barrel ageing and Merlot and Cabernet grape varieties. Which is best? Only you can decide, it's purely a question of individual taste. Chianti has changed greatly over the last thirty years, smoother and more refined it regularly obtains high scores from international reviewers, while maintaining its acidic character for excellent pairing with hearty food.
After our wine tastings we'll visit the tiny town of Greve in Chianti. Here it's nice to walk the arched sidewalks, browsing the shops which specialize in inexpensive souvenirs. For those who like cold cuts, the Falorni butcher's shop is a must.
Our Farm to table Family wineries in Tuscany tour ends here, and we set off on a relaxed return journey where you can sleep off the pleasures of the day. Drop off at your accommodation will be around 04:15pm.
Duration: approx seven hours door to door.
2019 price list: prices are all inclusive, no extras required to complete the tour as described
Check availability or book here
2 participants € 245 per person
3 participants € 180 per person
4 participants € 175 per person
5 participants € 160 per person
6 participants € 150 per person
7 participants € 140 per person
8 participants € 135 per person
This is not a group tour, fees refer to exclusively private parties
(for example: a private party of four people is €175 per person)
Pick up from Siena + €70 (per tour not per person), for other locations please ask.