A personal photographer in Tuscany for a lasting memory of your day
Your photographer in Tuscany tour includes:
• Personalized photo shoot in Tuscany
• Over 100 post processed photos
• Guided cellar tour of a top winery
• Home cooked lunch & paired wine tasting
• Private table at the winery
• Pick up from your accommodation
• Private tour & recent model minivan with AC
• Commentary in perfect English
For pricing scroll down
A unique tour which you won't find anywhere else on the net; your own photographer in Tuscany for a personalized shoot of your day. To pamper you even further, we follow with a three course home cooked Tuscan lunch and paired tasting of Chianti and Super Tuscan wines. Couples, friends and families will have the perfect memory of their day. Over 100 post processed photos will be sent via WeTransfer (zip file service for large files) to your email address within a couple of weeks. Your photographer is Sandro Fabbrini, who is one of the top wedding photographers in Tuscany. Take a look at his site for a better understanding of just how good his work is.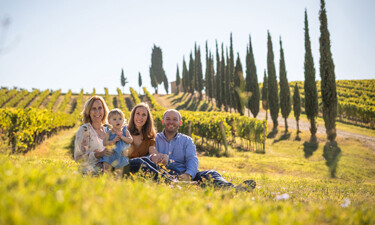 Photographer in Tuscany wine tour
09:15 We set out from Florence (other locations available on request) and head for the Chianti region where we arrive after about forty five minutes, and meet up with our photographer Sandro Fabbrini. Sandro is the top wedding photographer in Tuscany with thirty years experience. His talent lies in the ability to create perfect compositions of scenery and people, just look at the pictures on this page, or better still look him up on his site. We'll spend the morning enjoying the Tuscan landscapes while Sandro shoots away. He will take candid and posed shots making you feel very much at ease, he's done this hundreds of times. Late morning we arrive at Monterinaldi winery from my premium tour, for more photos in the grounds of the estate's 1800's villa.
Wine tasting & lunch
Our time with our photographer in Tuscany comes to an end around 01:00, but our day is far from over. We now sit down to lunch at a private table in the winery's 1800's villa. It's a three course feast of genuine Tuscan home cooking…and I really mean a feast! This is your chance to "get away" from restaurants and find out how Tuscans eat at home. Well it's not really the type of meal we eat every day, I'd call it a special occasion lunch. Your feast will be prepared by Margherita the winery's resident cook who isn't a chef…"just" a great cook in the homely sense.
Of course this is "also" a wine tour, so during the meal you'll be enjoying a paired tasting of the highly rated Chianti and Super Tuscan Wines from the Monterinaldi estate.  And by the way; I suggest you have light breakfast and forget your diet.
After lunch (If you're not too tired) we'll have a guided tour of the winery's 1800's underground cellars, then around 3:30pm we set back to our accommodation where we arrive at 4:30.
2019 price list: inclusive of Tuscany tour, photo shoot, wine tasting & lunch
2 participants € 870 per tour
3 participants € 935 per tour
4 participants € 1110 per tour
5 participants € 1220 per tour
6 participants € 1330 per tour
7 participants € 1430 per tour
8 participants € 1500 per tour
Discounts for young children please ask