Budget friendly Tuscany wine tour
Every Monday Wednesday & Friday
Your tour includes:
* Shared Tuscany wine tour with small group
* Scenic tour of the Tuscan countryside
* Two estates with tastings of Chianti & Super Tuscan wines
* Two course lunch at a local restaurant or winery
* Commentary & explanations in perfect English
* Central easy to find city pick up
* Recent model minivan with AC.
* Return to Florence at about 04:30
Fee €150 per person fully inclusive of wine tastings, light lunch and all travel costs
If you're looking for something budget friendly, or if you'd simply prefer the company of other people, here's a cheaper Tuscany wine tour from Florence that will fit your requirements. However I care to point out there will be no cuts on quality. The tour retraces my premium private tour very closely, we just travel with other wine lovers (up to a maximum of eight) to share the cost. This makes it more affordable for the lone traveler or couple. Last but not least, the tour is open to all experts and neophytes. We'll adjust to everyone's requirements during the day, and questions are welcome.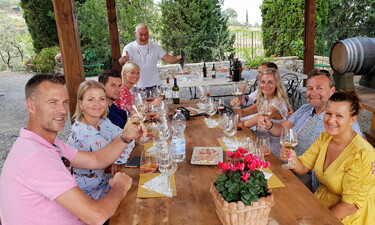 Tour itinerary
The philosophy behind our tours is to strike a happy medium between time for wine tastings and time for the iconic Tuscan countryside. We'll be travelling through one of the world's most beautiful rural areas, and most everyone will desire a few photos to remember the day. Consequently we'll make a number of leisurely stops to contemplate the countryside. Our day will include two wineries and relaxed sit down tastings. Of course we'll be tasting the region's most renowned wine, which is Chianti. We'll also be tasting a couple of excellent Super Tuscans too. Your driver and guide will be my partner Myriam Buzzi.
09.00am – Pick up is from Piazza San Firenze (see link below) and the first part of the morning will be dedicated to enjoying some of the world's most beautiful scenery. We'll make a number of stops for your holiday photos.
Our first winery visit is around eleven where you'll be introduced to the world of Chianti by the amiable staff. We start with a guided tour of the winery, then follow with a relaxed and seated wine tasting of Chianti Classico, Chianti Classico Reserve and Supertuscan wines. Our stay will be about an hour and a half.
Lunch is included and around twelve thirty Myriam will take you to our favorite restaurant. There's a set menu of appetizers based on Tuscan cold cuts followed by a tasty pasta dish and a glass of house wine.
The afternoon will take us to our second winery, and of course another sit down tasting. To have more time for wine and explanations we don't tour the cellars. Again you will meet the staff or the owner of the estate who will be there to answer your questions. Nobody expects you to be an expert so don't be afraid to ask, questions are welcome.
Pick up is 09:00 AM from the steps in Piazza San Firenze, which is right behind Piazza Signoria the most famous square in Florence. We are the only company offering such an easy to find & central meeting point. Coordinates 43.769878, 11.257465